Next Gen Engineering & Design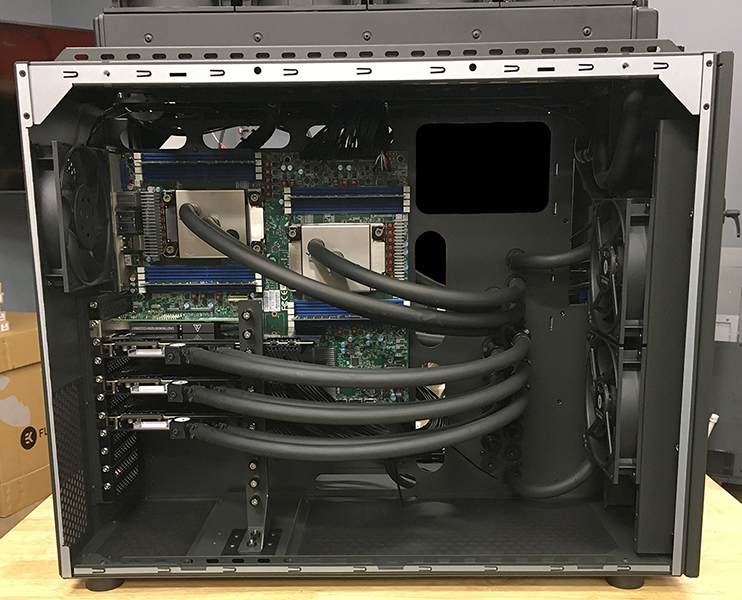 All custom PC Workstation & Server manufacturers talk about their high-performance computing solutions. The fact is that they all use similar components and engineering design. Only the Xenowulf line of workstations and servers deliver innovative, Next-Gen precision engineering and design.
Here's a look at a Xenowulf X7000 workstation recently purchased by an LA-based Facility. One can clearly see the meticulous craftsmanship, attention to detail & proprietary modular design that separates Xenowulf from the competition:
Single or Dual Socket CPU
Up-To 7x GPU Capacity
Custom GPU Locking Bracket
Patented Proprietary Liquid Cooling System
Custom Solid Aluminum CPU & GPU Cooling Blocks
Automotive-Grade Reinforced Tubing & Clamps
Custom 'Leak Proof' Quick-Disconnect Manifold Couplings
Custom Acetal Coolant Reservoir & Manifold
Proprietary AI Pump & Fan Controller
Redundant Platinum+ Power Supplies
Noise Suppressing Voltage Conditioners
Custom 16-Gauge Silver Plated Copper Cabling
'Whisper Quiet" Server-Class Radiator & Case Fans
Custom Fabricated Solid Aluminum Chassis
Full or Compact Tower & Rackmount Enclosures
Fully Modular Design
No other custom system manufacturer comes close to offering this degree of proprietary design & precision engineering. Xenowulf systems provide unparalleled stability & reliable Enterprise-Class performance combined with 'whisper-quiet' operation.
Not only are Xenowulf systems better engineered – they also out perform the competition. The facility that purchased the X7000 conducted R3D transcode tests of uncompressed Red 8K files on a well-known competitors 'optimized' workstation. It reached a transcode speed of 26fps. Repeating the same test on the Xenowulf system, they reached a transcode speed of 400fps – an almost 20x increase in performance! Another project involving 4-hours 10-minutes of 6K R3D with LUT to Avid DNxHR LB 1080p was completed in a mere 46-minutes.
Though more expensive, Xenowulf's superior performance ultimately saved the customer from purchasing multiple systems and software licenses – a savings of tens-of-thousands of dollars!
If this level of performance can help you and your business or if you'd simply like more info, give us a call. We'll design a solution that's right for you and your budget!
Xenowulf systems are made-in America using a minimum of 80% US-sourced components. Since there's no overseas supply-chain issues, lead-times are only a week or two.