ENTERPRISE-CLASS SOLUTIONS
Xenowulf® design & engineering sets a new standard of excellence for custom-built computer workstations & servers. Delivering Enterprise-Class performance, Xenowulf® systems are designed for mission critical environments. They're guaranteed to provide years of stable, reliable operation making them the ideal choice for Studios, Networks, Production Facilities, Data Centers, Research Institutions and discerning Artists.
Attention to detail and an unrivaled level of craftsmanship is evident in every Xenowulf® system. Each component is thoroughly vetted based on hundreds of hours of testing at their R&D facility located in Burbank, California.
Xenowulf® service & support are U.S. based. All workstations are made in America using a minimum of 85% U.S. sourced components. Every system is covered by a 3-year warranty and a lifetime warranty on the proprietary EK liquid cooling-system.
PROPRIETARY CPU / GPU COOLING
Heat is the single most crippling byproduct of computing technology. Xenowulf® liquid cooling systems don't just cool or remove heat but optimize system performance and increase longevity. They eliminate thermal throttling and effectively reduce thermal fatigue on system components thus delivering stable, consistent, reliable processing power and performance overall.
Xenowulf® proprietary CPU and GPU cooling systems offer unparalleled thermal performance. They incorporate features such as automotive-grade reinforced tubing & clamps, custom quick-disconnect leak proof manifold couplings, solid acetal polymer coolant reservoirs & manifolds and custom solid aluminum CPU / GPU water blocks. They also feature a proprietary Bluetooth / WiFi capable PFC module with full IPMI control that monitors fan & pump performance, coolant flow & temperature and CPU / GPU temperatures & performance.
PRECISION ENGINEERING & DESIGN
The level of precision engineering & unique custom modular design found in every Xenowulf® workstation is best summed-up in a single phrase - "A Look is Worth a Thousand Words".
Xenowulf® proprietary technologies, patented component design & attention to detail sets them apart from any other custom computer manufacturer worldwide.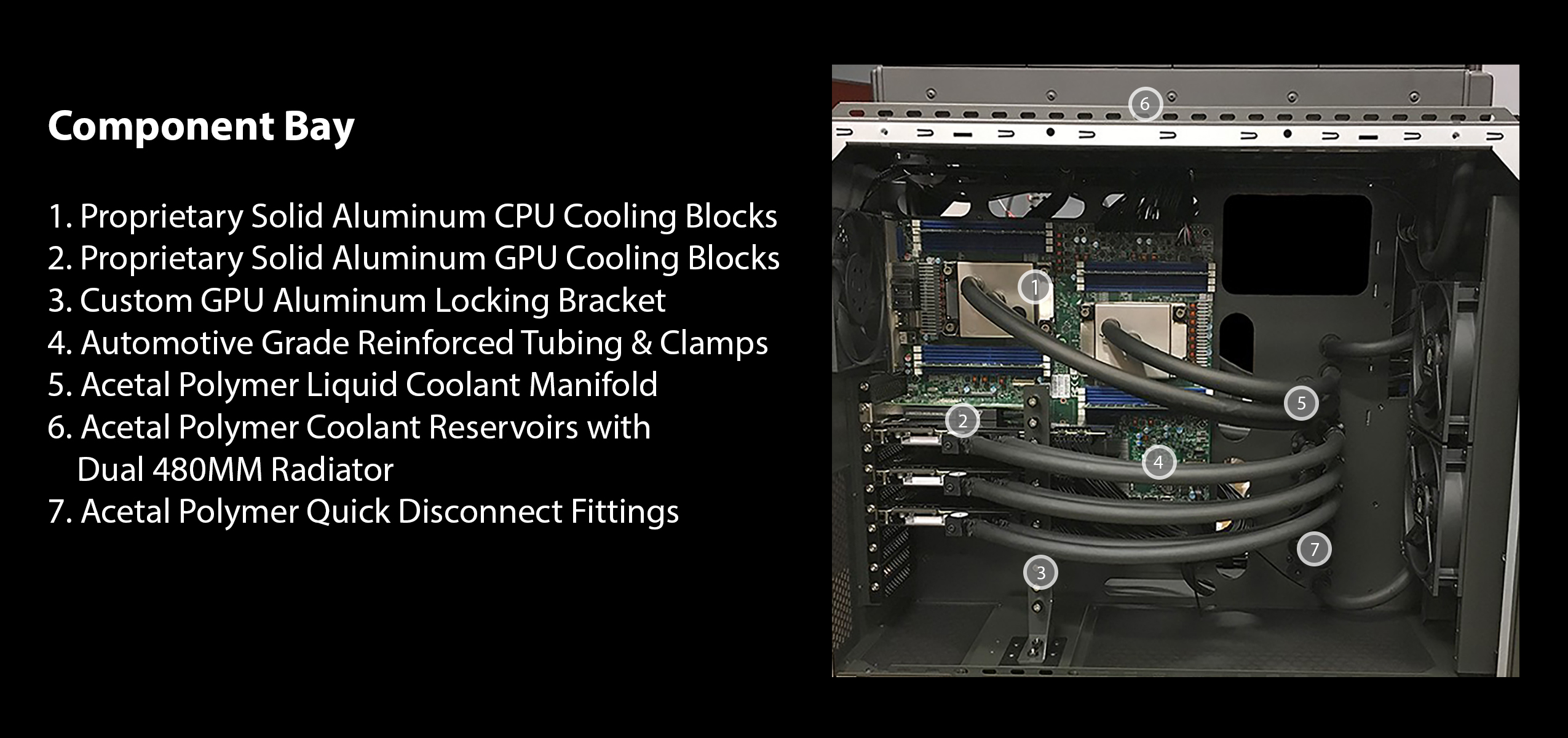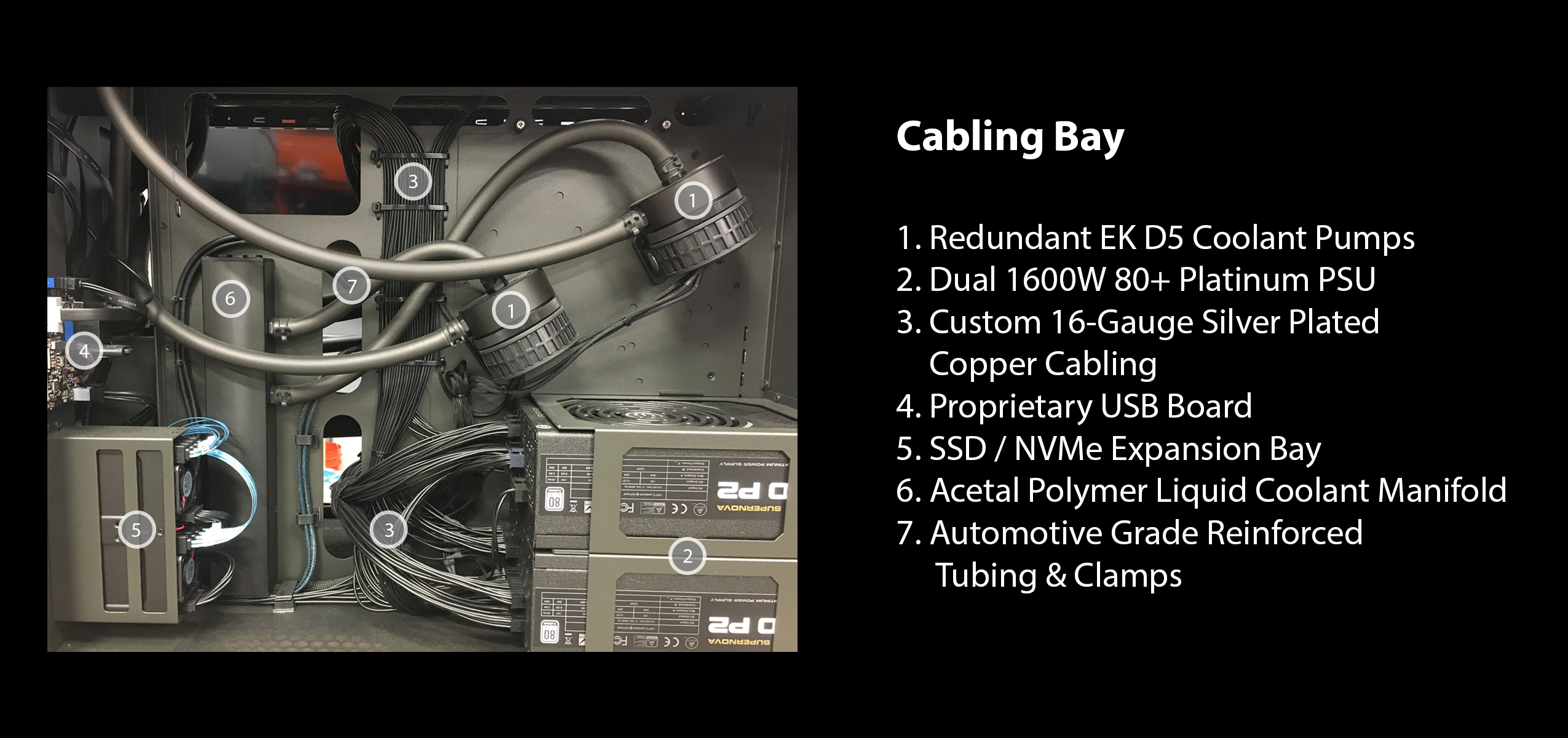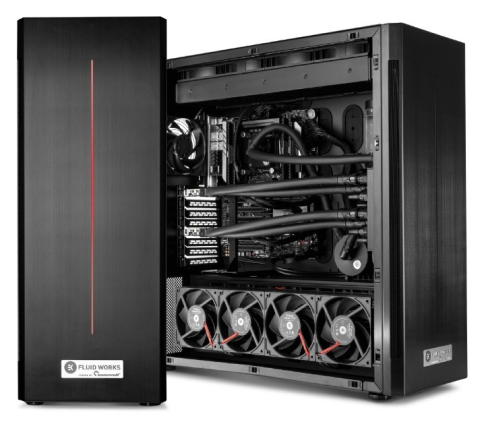 The Studio Series is designed to meet the critical demands of Digital Content Creators. They include single or dual socket processors, up-to 4x GPU and offer virtually silent operation thus eliminating noise pollution from the creative environment.
Xenowulf® workstations support Intel & AMD processors and are available in either Deskside or Rackmount enclosures.
Studio Series workstations are designed for Professionals working with applications for Animation, Color-Grading, Compositing, 3D Modeling, Motion Graphics, CPU / GPU Render, Transcoding and more... They're guaranteed to provide years of stable, reliable operation and come with a 3-year warranty plus a lifetime warranty on their proprietary EK liquid-cooling system.
Compute Series workstations are designed for heavy data processing applications.They come with single or dual socket AMD or Intel processors and up-to 7x GPU. Deskside models include dual 1600W power supplies while Servers utilize a 3+1 redundant 3240W power supply system.
Deskside models offer virtually silent operation making them an ideal solution for 'on-set' applications.
No other computer manufacturer offers this level of precision engineering, custom design, quality components, processing power and quiet operation. Systems feature easy-to-upgrade and service components and are available in Desktop or Rackmount Server enclosures.
Xenowulf® systems are competitively priced and are guaranteed to provide years of reliable performance.
Dedicated to delivering a superior customer experience, Xenowulf® provides the highest quality products and unmatched levels of responsive service and support. Customer Satisfaction is the top priority!
XENOWULF customer reviews...
"This is the fastest AMD Epyc Milan processors have ever gone in VRay and that comes down to cooling. The maximum temperature that we hit on any of the GPUs is under 45 0C and the CPU is at 60 0C. That is ludicrous!"
Linus Sebastian | Founder | Linus Tech Tips
"As a workstation the Xenowulf system was really nice because the rendering preview time of scenes was near real-time.
John Bashyam | Co-Founder | Warm & Fussy
"Xenowulf has enabled us to transcode a huge array of media types at lightning speed which has been essential to us automating our workflows. It's genuinely exceeded my expectations in every way.
John Smith | VP Post Production | Film 45
"We've been using the Xenowulf line of workstations for almost a year now and they've made an immeasurable impact on our workflows.
Ian Valentine | Co-Founder | Human Person Studios