The Power of HP Z840 Combined with the Versatility of HP ZCentral Remote Collaboration Software.

Creative Computing Solutions can customize your HP Z840 Host workstation to handle the most complex and demanding projects.
Take Advantage of This Special Limited Time Offer!
HP Z840 20-Core Host Workstation       
STANDARD BASE CONFIGURATION:
2X 3.1GHz Intel Xeon 10-Core E5-2687Wv3 CPU (Turbo-Boost to 3.5GHz)
HP ZCentral Remote Boost
Windows 10 Pro 64-bit OS
128GB DDR4 2133MHz ECC RAM
1TB NVMe M.2 2880 OS Drive
1x Nvidia Quadro RTX4000 8GB GPU
1x HP 27-inch 1080p Monitor
Keyboard / Mouse
PERFORMANCE UPGRADE OPTIONS:
• 256GB DDR4 RAM
• NVMe M.2 2nd Drive
• SSD / NVMe M.2 Internal RAID
• 2x Nvidia GeForce / Quadro Series GPU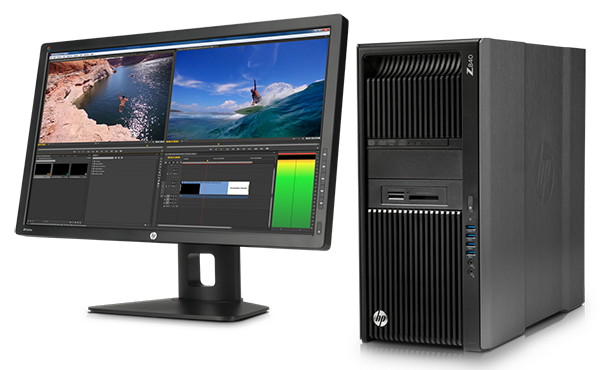 Rates start at a low as $195/week. Be sure to ask about our multiple-system & monthly rental discounts! This offer is for a limited time only - contact us for a quote today! 
How to Activate & Use ZCentral:
Turn Any Device into a Hi-Performance PC in Just 3 Steps
Z840 "Sender" Host Device: ZCentral Remote Boost "Sender" software is pre-loaded onto your Z840 Workstation.
Connect: ZCentral connects your end point "Receiver" device to your Z840 workstation. End Point Users now have access to all the power and performance of the Z840.
End Point "Receiver" Client Device: CCS will give you ZCentral "Receiver" software to install on all your end point devices – laptop, tablet and even 'thin client'. ZCentral supports Windows, Linux and MacOS end point devices.
Additional Features:
• Wacom Tablet Support
• 4K & Multi-Display Support
• Dynamically Resize Content / Adaptive Resolution
• Improved Latency over poor Network Connections
• Optimal Performance over Low Bandwidth Networks
• No Extra Drivers or App Updates for Supported OS Systems
Creative Computing Solutions also offers a wide range of Windows, Linux & MacOS End Point Solutions.
For more information or to check availability, contact us at info@ccsrents.com or visit CCSRents.com.
More about HP ZCentral Remote Boost:
Over the past year, HP's Emmy award winning ZCentral Remote Collaboration Software (formerly RGS) has become one of the most popular remote workflow solutions worldwide.
By providing remote access to advanced computing, ZCentral allows editors, artists & other creative professionals to create and collaborate from anywhere.
• Performance: Power Users get individual direct 1:1 access to Z840 power & performance from your end point of choice. ZCentral supports Windows, Linux & MacOS.
• Highly Secure: ZCentral only transfers pixels while your data remains locked down. All remote protocol data sent over the network is automatically encrypted. No special security access configurations required.
• Easy to Use: HP Z840 + ZCentral Remote Boost offer the only single product line remote solution available anywhere. There's no extra hardware or software required. It's a simple, straight forward, end-to-end solution.
Basic System Deployment